How To Design A Studio Apartment
Copy by: Khloe George
With current real estate prices on the rise and more and more millenials not able to afford huge bedrooms, the studio spaces have become quite popular. It's not only this demographic looking for a tiny space, it is all over websites and youtube of people downsizing. But how do you make a space space feel bigger?
Decorating a studio doesn't have to be hard. There are a few key elements to designing a studio apartment space. There are a few key elements to making it flow well and making it your own. One of the most impactful is to create a layered and curated space by adding tons of elements and decor pieces filled with personality.
Quick Tips:
Use big furniture. You might think using big funiture is the opposite of what a space will need but in all actuality, big furniture gives the illusion that a space is actually bigger than appears to be.

Light your space. Make sure there is enought light coming through your windows, hitting your walls and of course through your ceilings. Of course, you may not want a white wall but something just as light but neutral can work wonders to making the space feel bright and airy.

Lucite furniture. This can take your eyes off bulky furniture so your eys can move across the room freely.

Using mirrors wherever possible.

Using dividers. Separate with a book shelf or curtains. Avoid closing in your space. Choose items that let the light through.

Lastly, use storage that masquerades as something else. Using double duty furniture can give you small hiding spaces for your stuff to avoid making your space feel like a closet.
Use the vertical space. Add hooks, shelves, use every available nook and cranny of that wall for storage and decoration. This brings the eye upward.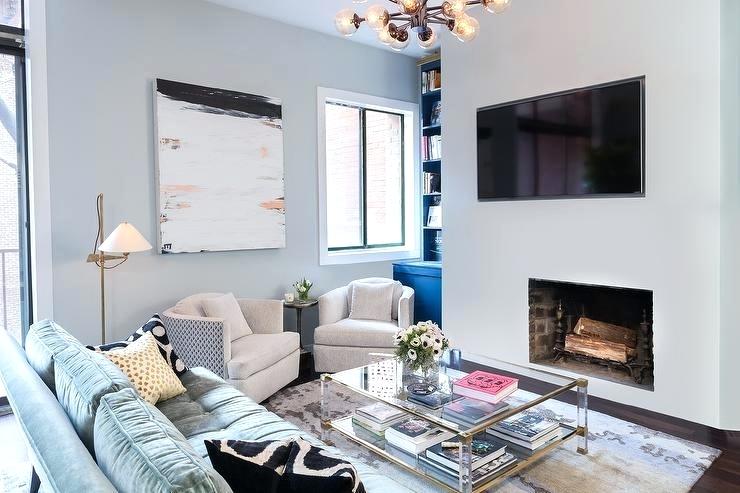 The center of the room would work best with a lucite clear coffee table. They have many different styles like lucite acrylic or glass. These table seem to not take any space at all because your eye goes right through them.
A poster bed is a big size but using the vertical space gives the area the illusion that bed is a separate area. Add texture and color on the bed with personality in pillows and comforters adding to the layered look.
Latest Studio Apartment Install at KG Style Designs